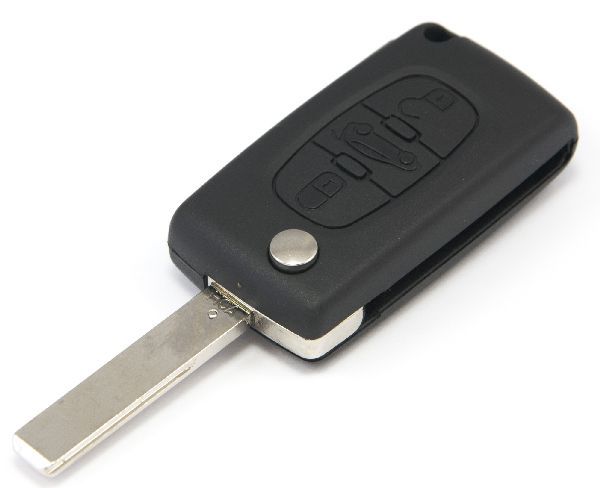 Aftermarket 207 SW Flip Remote
PER23c
Overview
Aftermarket Peugeot 3 Button Flip Remote with PCF7941 ID46 Chip. Lock, Unlock and Boot Buttons
Frequency: 434Mhz
Comes fitted with HU83 blade (PEB8c)
For key cutting see CUT2
For remote case see PERC7
For battery See CR1620
For replacement buttons see EPRB17
To our knowledge this is the latest button for this remote. 3D Group will not be responsible for problems arising from ill fitment
Programming:
Immobiliser: Diagnostically
Remote: Re-sync after immobiliser
Cross Reference:
3D Group: PER23c
Genuine Part Number: 6490CS 649078 (uncut) or 6490CT (cut)

NOTE:
PEUGEOT 207 SW
FROM START OF PRODUCTION UNTIL RPO No 11922
PEUGEOT 308 SW
FROM START OF PRODUCTION UNTIL RPO No 11557
HELP AVAILABLE:
If you are unsure of the correct part number, you can use our chassis to part number service. Please send through the make, model, full chassis number and registration number to either our text message service or via the additional notes when checking out
Vehicle Coverage
Vehicle
Year
Peugeot 207 SW SW Models Only

2006 - 2012

Peugeot 308 SW SW Models Only

2007 - 2008
Product Info
OEM or Aftermarket

Aftermarket

Battery

CR1620

Buttons

3 Buttons

Frequency

433mhz

Transponder

ID46

Remote Style

Flip

Blade Reference

HU83 (Silca)

Blade Reference

HU-HCA (JMA)
Delivery Information
Same Day Dispatch
UK customers will need to order before 4pm (3pm for international customers) Monday's to Friday's (excluding UK bank holidays) to receive same day dispatch.
Back Orders
For UK customers, out of stock products will be added as a back order to your account (Unless otherwise stated) and will be dispatched and charged once the product is back in stock.
Order History

No order history found for [PER23c].